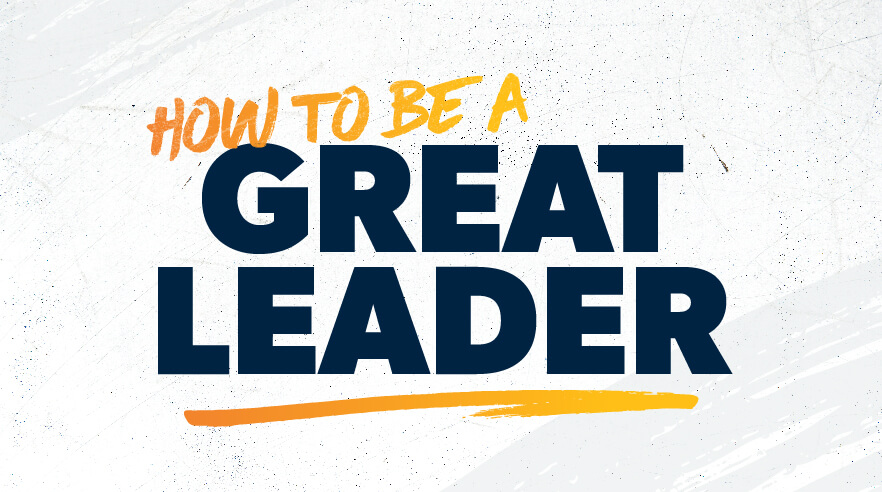 "You don't lead by hitting people over the head—that's assault, not leadership." You'd think this idea, put into words by Dwight D. Eisenhower, would be common knowledge. But how many of us have worked for people who knew how to call the shots but had no idea how to lead?
If you want to inspire people to follow you, you've got to go from being a good boss to a great leader. Here are 10 things you can do to improve your leadership abilities and become someone your team actually wants to follow.
1. Work on Yourself
Sometimes the hardest person to lead is yourself. But your organization can't grow beyond your leadership capacity. Our founder, Dave Ramsey, readily admits that when he first started his company, he wouldn't have won any awards for his leadership skills. When he realized the one thing holding him back was staring at him in the mirror, he was able to make the necessary changes to become a great leader.
Dave says, "You can decide who you want to be and get about the business of becoming that person."
Who you are and what you value are just as important to the success of your business as the hard skills you bring to the table. You have a major impact on your team. So to be a great leader, you need to do some soul-searching and ask yourself hard questions about the person you are, who you'd like to become, and what you need to change to get there.
2. Exercise Servant Leadership
The idea of servant leadership was first penned by Robert K. Greenleaf in his essay "The Servant as Leader." He described a true servant-leader like this, "The servant-leader is servant first . . . It begins with the natural feeling that one wants to serve, to serve first. Then conscious choice brings one to aspire to lead."
Being a servant-leader doesn't mean you wait on other people hand and foot. It means you're driven by empowering your team and helping them grow to become great at what they do.
You've probably heard it said, "People don't care about how much you know until they know how much you care." And we all know that's true. It sucks feeling like a cog in a wheel, working for some soulless company. But when a leader uses their power to genuinely help other people, and to show us we matter, it makes a huge difference. It creates influence and loyalty that lasts.
Read: What Is Servant Leadership?
3. Define a Clear Vision for Your Business
When you play for something bigger than yourself, you play harder and smarter. This is also true for your team. No seriously, people need meaning. If you don't think meaning affects your bottom line, you're missing out! One study found team members who find their work meaningful make an extra $9,000 for the business, per year, compared to those who don't.1
Leaders see something they want to accomplish and invite people to come along and make it happen. A simple way to get started is to craft a vision statement, then share it with your team—often. Oh, and by the way, it doesn't matter what industry you're in—you can create a compelling vision for your team. As the leader, your job is to give your team something worth working for. If you don't, no one else will!
4. Hire the Right People
It doesn't matter if you're trying to fill a minimum-wage job or selecting a new high-level leader for your company—hold out for the perfect person for the role. Don't just look for experience and skills. Make sure they have the right attitude, values and energy—because each team member affects your team culture. And having the right people in the right positions helps everyone do their best work.
One of the biggest mistakes business owners make during the hiring process is not taking enough time. Check out The EntreLeader's Guide to Hiring for an in-depth, step-by-step hiring process that'll help you find the right fit for your business.
Warning: This is way more than most companies do, and it takes time. But you don't want to be like most companies, right? Most companies have a group of halfhearted employees who are in it just to make a buck. You want a team that cares about your business like you do. So take plenty of time and set your standards high!
5. Show Your Appreciation
A recent study found that the more employees feel a sense of belonging at work, the more likely they are to stay with the company, advocate for the brand, be engaged, and display a strong sense of loyalty.2
Make a habit of catching people doing something right and letting them know you appreciate it. A sincere compliment from someone in leadership is (sadly) so unusual that it immediately sets you apart—and it costs nothing but a little time and intentionality.
Here are a few easy ways you can start showing your appreciation:
Ask intentional questions and listen actively.
Write a team member a personal note.
Give a shout-out in front of the whole team.
Share your gratitude for who someone is—not just what they do.
6. Don't Micromanage
Mistakes cost you time and money. So it's better to just do something yourself—or at the very least, monitor your team's work closely, right? Be careful. If you think this way, you could be in danger of micromanaging your team.
Here's why that's a terrible idea. Micromanaging is not leadership. It's a management style where leaders are overly involved in a person's day-to-day work. Micromanaging attempts to control people, and it often leads to frustrated and checked-out team members.
Leadership, on the other hand, empowers people. You should empower your team to take on new challenges, knowing they may make mistakes along the way. Handing over responsibility and authority to someone else can be scary. But great leaders believe failure is just an opportunity to help someone learn and grow.
7. Be a Coach
Coaches take our potential and help us capitalize on it. They bring out our best, challenge us, and give us the inspiration we need to keep going when we're feeling discouraged.
Leaders who coach their team members don't just provide answers—they ask great questions. They pay close attention to other people's talents, skills and interests and actively help them work in their sweet spot. They're not concerned about being the most talented, most competent or smartest person in the room. Instead, they fire up their team and bring in the right people for the job.
8. Communicate Early and Often
Great leaders are often the most vulnerable leaders. They're open about what's working in their business, what isn't, and what actions they need to take to do better.
But a lot of times, many business owners keep their people in the dark because they're scared of criticism. That's a surefire way to kill morale and create room for suspicion and doubt. Good communication has the opposite effect—it builds trust. High levels of trust allow you and your team to accomplish more. Low trust limits the potential of your team members and your business.
Stephen M.R. Covey, author of The Speed of Trust, puts it like this, "Low trust slows everything—every decision, every communication, and every relationship." Always let your team know what's going on, in good times and bad times. Start regularly communicating with your team so they know what to expect.
9. Adapt
The only constant in life is change. And business is always ebbing, flowing and being disrupted. Great leaders embrace this and aren't set in their ways. They stick to their values and guiding principles. Simon Sinek calls this the why. The how is always up for grabs.
The key to adaptability is being a student. Are you willing to learn something new? Are you willing to try something you've never done before? Know when it's time to call an audible and change it up.
If you're looking to become more adaptable, check out this EntreLeadership Podcast episode where leadership expert Simon Sinek talks about shifting to an infinite mindset.
10. Take Ownership
Leaders don't play the victim. Period. When something doesn't get done or goes bad, there are no excuses. There's no one to pass the buck to, and no one to throw under the bus.
Of course, you should coach your team members and hold them accountable for their commitments. But at the end of the day, great leaders accept responsibility and lead their team to look for solutions.
Leadership isn't just about what you do—it's who you are. And you'll find the things you want from a leader are the same things the people you're leading expect from you. But just in case you need a refresher, here's a quick list of qualities found in great leaders:
1. Authenticity
Don't be afraid to be a genuine person. Be transparent about your strengths and weaknesses.
2. Confidence
Be sure of your abilities and play to your strengths.
3. Humility
Don't pretend like you can do it all. Stay open to feedback and show it's okay to ask for help.
4. Character
Knowing what you value, and why, is key to finding direction in your life and your business.
5. Integrity
True integrity is honoring your values all the time—not just when people are paying attention.
6. Professionalism
You don't need to wear a suit every day to act like a professional. Be yourself, of course, but just be sure to live out the level of professionalism you expect from the people you lead.
7. Trustworthiness
You want your team to know you have their back and will support them no matter what. Follow through on your promises and mean what you say!
8. Loyalty
Many leaders expect complete loyalty from those they work with, but it's a two-way street. Be loyal to your team members and show them you care.
9. Courage
Being a leader often means you have to make tough decisions. This requires you to tap into a certain level of bravery others don't have to during their 9-to-5.
10. Decisiveness
Leaders don't just talk about ideas, they take action. Have the courage to take risks and be decisive when faced with a challenge.
One of the best ways to become a great leader is to learn from people getting it right. And EntreLeadership Summit is the perfect opportunity for you to learn from the country's top leadership experts. Find out more about our upcoming conference, then commit to investing in yourself and your team.
Great leadership, just like anything else worthwhile, doesn't happen by accident. So keep growing as a leader and looking for opportunities to serve your team!