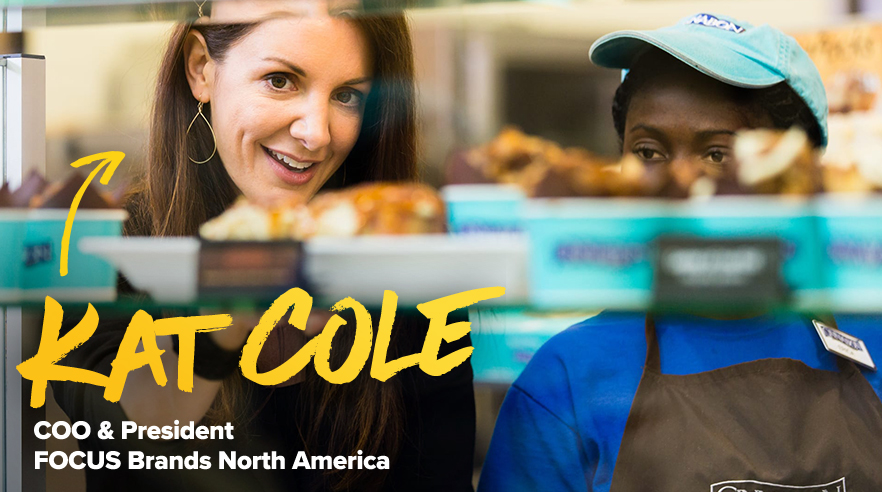 Photo Credit: David A. Grogan
If you ask Kat Cole the secret to her success, you might be surprised at the answer. Sure, the COO and President of FOCUS Brands North America is incredibly smart, driven and talented. She went from restaurant hostess at age 17, to executive vice president at the same international restaurant chain by 26, to her current C-level position while still in her thirties. She couldn't have done all that without exceptional gifts and skills, but she believes one thing in particular set her apart: her talent for building trust in the workplace.
We talked to Kat recently on our EntreLeadership Podcast about building trust. Here are her top tips.
1. Be Thoughtful
When Kat first started traveling internationally for work, building trust in the workplace had to happen quickly. She opened a new restaurant every 60 days. To add to the difficulty, each venue had different environments, languages, laws, and cultural expectations, as well as different franchise owners most of the time.
So, what was her secret? It was as simple as having humility and being thoughtful. "I would start by bringing them coffee, tea and donuts," she says. "The point is not a gift, and it's not to buy trust. The point is doing something every day that says, 'I thought about you.' It's showing them you care . . . gestures of thoughtfulness. Even though I'm in charge, I'm saying, 'I'm here to serve you.'"
2. Be Courageous, Confident and Curious
This blend of attributes works for new teams as well as existing ones. Don't be afraid to ask questions when you have them. Be quick to admit your mistakes and make changes when they need to be made. Also, be willing to call out behaviors that are unacceptable.
"It makes the team feel safe," Kat says. "They know what they're supposed to be doing is actually going to be upheld."
3. Be Vulnerable
You can't be courageous, confident or curious if you're not vulnerable first. Kat has always been outgoing and open, so this was a natural for her. She was leading teams around the world at 19 years old, so she needed a way to bond with people to build trust in the workplace.
"The more I shared, the more I connected with people," Kat says. "When they were more comfortable with me, it brought down guards and walls. I paid attention and saw that was helpful. I've continued that behavior." 
Want to learn more from Kat? Join us May 17–20 in Orlando, Florida at our premier leadership event—EntreLeadership Summit. Kat will be on stage, along with some of the top minds in business and leadership, plus 3,000 fellow EntreLeaders there to learn and grow alongside you. Learn more and get your seat here before it's gone!