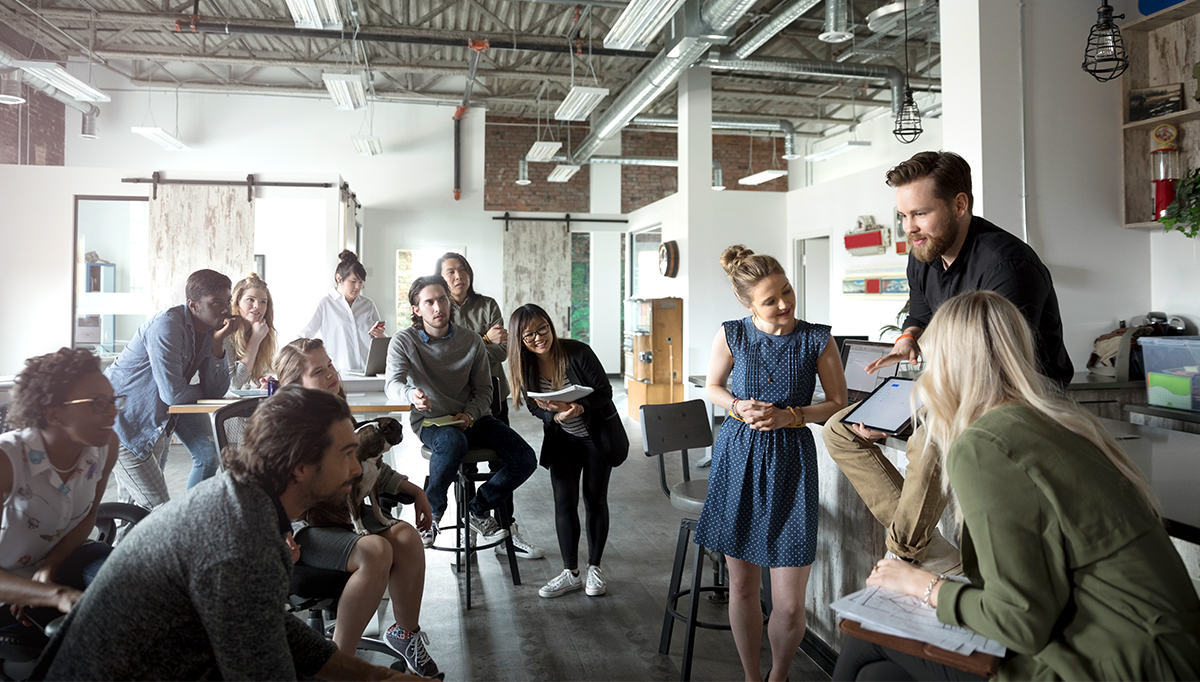 Imagine having a team of rock-star employees who care about their work as much as you do. Sound like a fantasy? You wouldn't be the only business owner to think so. Only one-third of the workforce in the U.S. is motivated and enthusiastic about the work they do, according to a 2018 Gallup survey.1 And that's the highest percentage in years. Super frustrating.
So how do you motivate your employees? Before we share some EntreLeadership practices and principles that will fire up your team, let's get real for a second: You can't motivate team members who aren't willing to change. It doesn't matter how many ping-pong tables, free lunches, decompression capsules, or any other perks or benefits you offer. They'll never get off their butts or improve their attitudes. You're treating the wrong symptom.
Related: The High Cost of a Bad Hire and How to Avoid It
There are legitimate reasons—besides hiring the wrong people in the first place—why your employees might be underperforming. And these issues can be fixed. Here are eight ways to motivate your employees and create a better company culture, where your team is bought into the work they do.
1. Cast Your Vision
Have you ever noticed that when someone tells a great story, you can't help but place yourself in it? Casting a vision for your business is nothing more than sharing a story—the story of your business's future, why you work, and where you want to take your company. This year, our vision for Ramsey Solutions is to serve and provide hope to three million people. You can bet that gets our team fired up!
Keep in mind that your vision doesn't have to be on such a massive scale. As a business owner, you're serving others—making their lives better—no matter what you do. Drive that point home and share it with your team members constantly. Repeat it until they're sick of hearing it. Your team will naturally see the part they can play, and it will help them feel like they are a part of something bigger than themselves.
2. Develop a Mission Statement
A mission statement brings clarification and definition to your vision. It tells others, including your team, what you're about. It's a strong motivator because it rallies a team around a shared purpose. It also serves as an out-of-bounds marker. It will show your team what your business is not about.
That's why it has to be right. If you don't have a mission statement or need to refine the one you've never really used since the day it was written, it's time to develop one. Check out our Mission Statement Mapper to get started.
Once you have your mission statement, take every opportunity to remind your team about it. This is what you stand for. At Ramsey Solutions, our leaders think the mission statement is so important, team members are required to memorize it. Our mission statement is:
We provide biblically based, commonsense education and empowerment that give HOPE to everyone in every walk of life.
3. Share Clear Goals
Goals are visions and dreams with work clothes on. They convert your vision into energy. They're also what is going to move you forward in every area of your life. So, if you haven't done so yet, your first step is to create goals for you and your business. Keep in mind that in order for your goals to work, they need to be SMART:
Specific
Get down to the nitty-gritty with your goals. Just saying you want to grow your business won't cut it. Instead try, "I want to increase profits by 2% in the next quarter." When you have an exact target, it makes it easier to create a plan of attack.
Measurable
You also want to make your goals measurable so that you can track progress, adjust your strategy if needed, and celebrate when you know you reached the milestone!
Attainable
Goals need to be realistic and achievable, otherwise you'll just disappoint yourself and your team. This is a bit of dance. You should always try to stretch yourself and your team.
Relevant
Have you ever worked on a project that seemed totally pointless? It's fair to say you probably didn't give it your best effort. If you want your team to buy in to goals, they need to align with your mission and vision.
Time-specific
Without time parameters, goals can turn into tasks on the to-do list you'll get to "eventually." Create a sense of urgency by setting deadlines for your goals. This will ensure you and your team dedicate time and resources to making progress.
Once you have your goals, your next step is to share them with your team to get them on board. Because without their buy-in, goals aren't goals at all—they're quotas. And nobody likes quotas.
So, what happens if your team doesn't hit that stretch goal? Great coaches know that failure is the best opportunity to improve. Figure out together why you didn't quite hit that goal and how you can improve in the future. That builds a lot of trust and unity with your team.
4. Create a Culture of Recognition
Ever gone out of your way to do something nice for someone only to have the effort go completely unnoticed? Or work extremely hard on a project and not even get a thank you? It kind of sucks.
Well, your employees feel the same way too. Like it or not, we all yearn for approval and appreciation! And nothing is more demotivating than not being recognized for a job well done. In fact, according to a workplace study by Gallup, employees who do not feel adequately recognized are twice as likely to say they'll quit in the next year.2
If you want to motivate your team to do their best work, acknowledge them openly and often. Our CEO, Dave Ramsey, is known to walk through our building looking for people doing good work—and then he lets them know what a great job they're doing. A thank you or a compliment can set you apart from the majority of employers out there who can't even bother to learn their team members' names.
Create rituals for recognition—something your team does to celebrate wins together—and make them routine. There are plenty of simple and inexpensive ways to show your appreciation for your team's hard work. Check out this guide, 43 Ways to Recognize Your Team, for a few ideas.
5. Prioritize Work-Life Balance
A sure-fire way to make people hate working for your company (and probably you) is by violating their work-life boundaries. News flash: Your employees have lives outside of your business. They have families, friends, hobbies, and even side-hustles that they want to get home to every night. Don't demand or expect your team to work insane hours every single week. In the long run, it leads to burnout and a lot of resentment.
Sure, sometimes it will need to be all-hands-on-deck until the work is done and the deadline is met. But if it's crunch time all the time, that's a problem. Living in a constant state of urgency where work always trumps other areas of life isn't healthy for you or your employees. So, you need to lead by example—when you're at work, be at work; when you're at home, be at home. And encourage your employees to do the same.
6. Practice Servant Leadership
People want to work for leaders who are in their corner—not commanding work, but supporting their work. That's what it means to be a servant leader. You're not being subservient. You're looking out for the best interests of your team and your organization.
This means you need to be humble—willing to get out of the corner office and help your team. Here are three things you can do to show your employees that you are all in this together:
Keep an open-door policy: Be approachable. Make yourself available and actually take an interest in your team members' lives.
Walk around the office: Take 15 minutes each day to walk around the office and chat with your team members. Find out what they're working on and ask how you can help.
Lead by example: The EntreLeader knows that running a business is very hands-on and mechanical. Don't be above getting your hands dirty. Show your team that you're willing to jump in and get things done for the good of the team.
7. Give Your Team Ownership
Are you a control freak? Listen, you probably have the best intentions, but nobody really likes working for a micromanager. People want to be treated with dignity. Be sure to delegate and empower your employees to do their jobs. This is super important because it allows your business to grow beyond your personal capacity. Remember, though, delegation done right is not easy. There is a lot of misunderstanding around delegation and it's easy to get wrong. To learn how to delegate the right way, check out The EntreLeader's Guide to Delegation.
8. Follow the Golden Rule
Simply put, treat others how you would want to be treated. Seems like it should be a no-brainer, but it's easy to be so focused on results that you forget that the people who are working shoulder-to-shoulder with you are exactly that—people. If you would expect a raise for a big idea, give a raise. If you would expect praise for a major sale, give praise. If you would expect guidance on a tough project, give guidance.
Defend Against These 5 Demotivators at All Costs
So we listed some steps you can take to boost motivation. But we would be mistaken if we ended this discussion without pointing out the common practices that destroy morale. These five enemies of unity are like kryptonite. They'll take down even the mightiest of companies.
1. Poor Communication
Lack of communication will lead to distrust, which will destroy unity. So, share as much as possible with your team, whether good news or bad. We have a saying around here, "To be unclear is to be unkind." Not sharing leads people to assume the worst. But by communicating clearly, you can all get on the same page and move forward together.
2. Lack of Shared Purpose
Like we said above: Without a clear picture of what your business is about and how you go about it, your team members will become confused, disinterested and frustrated. You have to align your team with the vision and mission of your business. Talk about those two things so often your team knows what you're going to say before you say it.
3. Gossip
Negative chatter has the power to destroy everything you've built—killing unity, loyalty and your culture. It's contagious like a stomach virus on steroids. You need to stamp it out now, or it will infect your entire company culture. Encourage your employees to bring negatives and pain points to leaders who can actually make a change, rather than to their peers at the water cooler.
4. Unresolved Disagreements
You can't work with people and never experience conflict. It just isn't possible. As a leader, it's your job to act quickly and decisively when you become aware of disagreements. Work to find resolution. If not, the tension will fester, and your team will grow apart.
5. Sanctioned Incompetence
Whether it's related to social interactions or performance, you can't allow incompetence to go unchecked. It will deflate the rest of the team. Leaders address underperformance and unacceptable behavior early and often
Be on your guard! And if these five things are already running rampant in your company culture, don't despair. You can turn things around, and we can help. Sign up for our free online training, 5 Fixes to Get Your Employees to Act Like Owners.
Now you know how to motivate your employees, and it all boils down to this: Care deeply about the people who work for you, and they will care deeply about the work they do. Put the principles into practice and avoid the five demotivators like the plague. And remember, people only allow themselves to be led when they feel valued and when they are treated with dignity.
References: