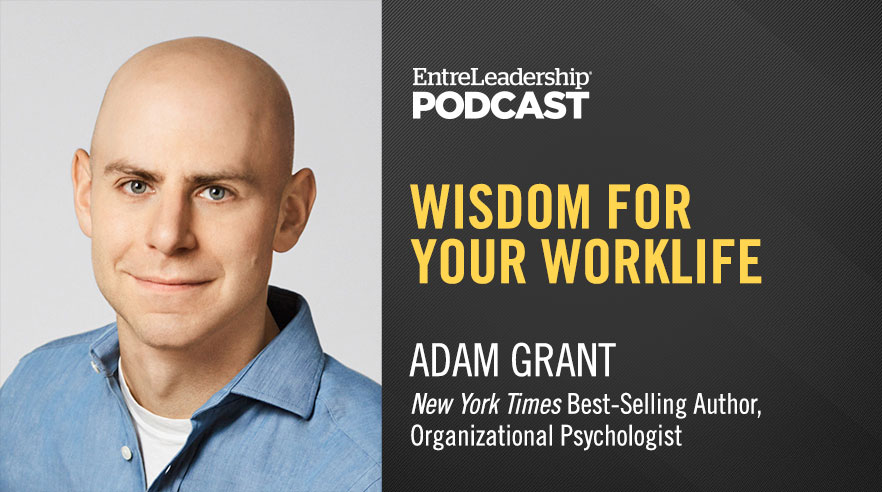 Psychologist and New York Times best-selling author Adam Grant has spent his career studying ways to find more motivation and meaning in life, and he says a great place to start is by looking for purpose at work. Now depending on how you feel about your job, that may be easier said than done, but Adam insists that any one of us can create the job we want. Join us as he details ways to find more fulfillment and satisfaction at work, as well as how to navigate the ever-elusive idea of work/life balance.
Links mentioned in this episode:
Related posts:
#191: Adam Grant—Championing Creative Ideas
Ideas are easy. But getting people to support them? That's a whole different ballgame according to this week's guest, Adam Grant. The awarding-winning Wharton professor joins the show to discuss how to recognize a good idea and how leaders can build cultures that welcome dissent.
#245: Ken Coleman—6 Stages of Self-Discovery
A self-proclaimed professional question asker, Ken Coleman—host of the EntreLeadership Podcast and The Ken Coleman Show on Sirius XM—has conducted hundreds of interviews and has concluded that most of us are in pursuit of the same thing: significance. Simply put, we all want to feel as if we matter, that our life has purpose. And helping you find your calling is something that Ken is downright passionate about. Tune in to walk through his six-stage method of getting to what he calls the "sweet spot": a pursuit that combines your greatest talent with your greatest passion. Now that's what we call a dream job.
#185: Don Yaeger—Creating a Championship Team
Whether in business or sports, teams that are winning all have one thing in common: a sense of purpose. Best-selling author Don Yaeger joins us to discuss how you can create one for your employees. Also on tap, we're sharing one of the most-talked about clips of the new year: Simon Sinek talking about leading millennials.