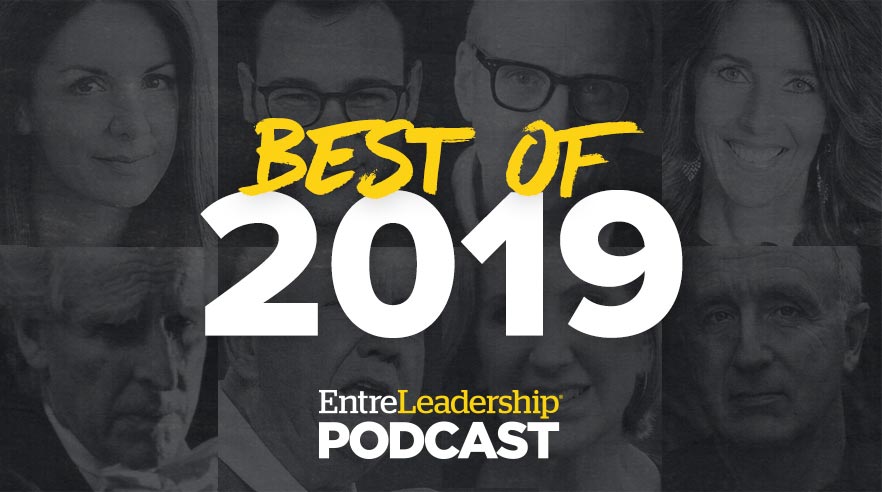 From defying the odds and achieving impossible goals to navigating the infinite game of business, we've covered a lot of ground in 2019. And we couldn't pick a favorite episode if we tried! That's why we're bringing you highlights from nine of this year's best episodes—the ones that challenged and inspired us, pushed us out of our comfort zone, and changed our perspective. Trust us, they're worth another listen for sure!
David Goggins—Defy the Odds
The Rundown: A retired Navy SEAL and one of the world's top endurance athletes, David Goggins doesn't know the word "quit." But that wasn't always the case. After surviving a childhood of unimaginable physical abuse, poverty and prejudice, failure had become the narrative of his life—until, against all odds, David completely changed the trajectory of his life.
Top Takeaway: The most powerful weapon in the world is your mind.
Favorite Quote: "I look at my life as the ultimate training ground. Those things beat me, but they didn't kill me." — David Goggins
Craig Groeschel—Know, Feel, Do
The Rundown: What's the one skill that all great leaders have in common? They're master communicators. And Craig Groeschel, founder and senior pastor of Life.Church, is one of the best. Join us as he explains why great communication must tell people three things: what you want them to know; how they should feel; and how you're going to lead them toward action.
Top Takeaway: Communication is about so much more than transferring information.
Favorite Quote: "Just because you said it doesn't mean they heard it, doesn't mean they believe it, or doesn't mean they'll do it." — Craig Groeschel
Art Williams—Accomplishing Impossible Goals
The Rundown: If you've ever dared to dream an impossible dream, A.L. Williams & Associates founder Art Williams says you're one step closer to achieving greatness. Straight from our EntreLeadership Summit 2019 stage, the high-school football coach turned self-made billionaire shares his personal success story that will leave you speechless—and undeniably fired up!
Top Takeaway: A positive attitude is the most important thing you can have.
Favorite Quote: "If you want to win in this life, you've got to do what you're supposed to and a little bit more. And you can't ever stop until the finish line." — Art Williams
David Salyers—How to Run a Be-Rich Business
The Rundown: Chick-fil-A's specialty may be chicken, but former Chief Marketing Officer David Salyers says the restaurant chain's focus has never been the number of sandwiches sold. Instead, Chick-fil-A operates as a be-rich business—a venture more concerned about enriching their customers' lives. Tune in as David explains why a be-rich business beats a get-rich business every time.
Top Takeaway: There's a huge difference between creating sales and creating fans.
Favorite Quote: "Getting rich is about enriching your life in expense of others. Being rich is about using what you've been given to enrich the lives of those you serve." — David Salyers
Ian Morgan Cron—Why Self-Knowledge Matters
The Rundown: There's a lot of talk these days about the benefits of self-awareness, but bestselling author Ian Morgan Cron says nearly 90% of us aren't self-aware at all. Not to mention, many of us are lacking the self-knowledge necessary to build that awareness in the first place. Tune in as Ian makes the case for getting to know the real you.
Top Takeaway: The key predictor of success among leaders is self-awareness.
Favorite Quote: "Be a student of yourself. The more you know about yourself, the better off you're going to be as a leader, as a human being."  — Ian Morgan Cron
Simon Sinek—How to Play an Infinite Game
The Rundown: Forget winning or losing. Leadership expert Simon Sinek says the most important thing is to determine what kind of game you're playing. Business, unlike a finite game such as baseball, is an infinite game: The rules are changeable, there is no set finish line, and no one wins. Tune in to learn the five things you need to successfully navigate it.
Top Takeaway: The goal of an infinite game is to outlast your competition, not beat them.
Favorite Quote: "People are not a towel that you ring tight to get the most out of them." — Simon Sinek
Kat Cole—4 Qualities You Need to Lead
The Rundown: When it comes to climbing the corporate ladder, there's the slow and steady, traditional way—and then there's Kat Cole's way. Case in point: She went from a waitress at Hooter's to the president of Cinnabon Inc. in under 15 years. Tune in as Kat, now COO and President of North America for FOCUS Brands, shares the four qualities every leader must have.
Top Takeaway: Never underestimate the power of a learning mindset.
Favorite Quote: "There's very few things that provide better skill building than seeing it modeled [by] leaders." — Kat Cole
Steven Pressfield—The War of Art
The Rundown: If you've ever heard that voice in your head telling you you're not smart enough or talented enough or good enough, Steven Pressfield says you're not alone. In fact, he contends that no one is immune to this sort of self-sabotage that he likes to call Resistance. Tune in as Steven details how to overcome it for good.
Top Takeaway: Adversity is a part of the game, but how you respond to it is a choice.
Favorite Quote: "We all come into this life with a calling, with work that we have to do—and Resistance's entire job is to stop us from doing our work." — Steven Pressfield
Patric Yumul—The Humility to Serve
The Rundown: After 30 years in the restaurant industry, Mina Group president Patric Yumul knows that the best service starts and ends with one thing: humility. But first, he says, you must realize that your customers have a choice—and then serve them with such excellence that they choose you again and again. Tune in as Patric explains how he and his team do just that.
Top Takeaway: Aptitude matters, but attitude is everything.
Favorite Quote: "Every single day, we're going to find a way to improve, whether it's [to] improve a system, improve our mental outlook, improve the way we communicate." — Patric Yumul
Links mentioned in this episode: