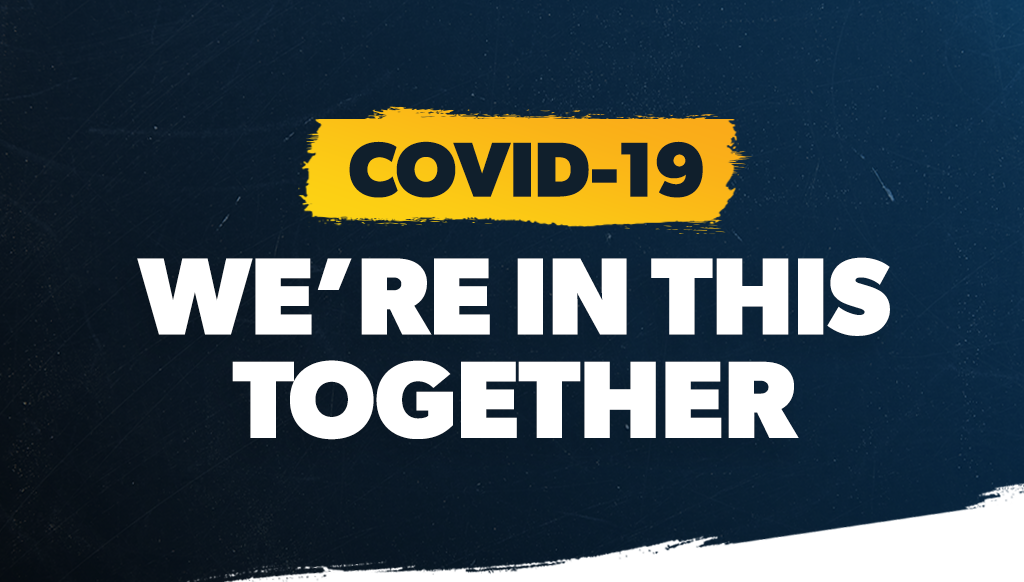 We're all navigating uncharted territory right now due to the COVID-19 pandemic. And a health crisis of this scale impacts everything: your family, your team and your business. In these uncertain times, we do know one thing for sure: We're stronger, together. And we're here to help in any way we can, including answering some of your most-pressing questions as business owners and leaders. Read on for a conversation between Daniel Tardy and Sarah Sloyan, two of our Ramsey Solutions leaders, that addresses some concerns we all have right now.
COVID-19: Let's talk about it.
DANIEL TARDY (DT): Hey guys, Daniel Tardy and Sarah Sloyan from the Ramsey Solutions EntreLeadership team. Our country is going bananas right now, and we just want to talk about it. You guys are business owners and leaders out there in the marketplace. And we started seeing through social media that you're dealing with kind of the anticipation of where this is going to go, how it's going to impact your business, how it's going to impact your team.
And we thought, you know, let's just talk with you guys. Let's have kind of a fireside chat. And this wasn't a big preplanned thing. Our team just got together and said, really a couple of hours ago, "Hey, can y'all jump in the studio and just talk with our tribe and maybe add some encouragement, some advice?" And we actually put out a request to get some questions from you guys about things that are top of mind. And so we're going to tackle some of those today.
SARAH SLOYAN (SS): The reality is, we're a business too. And so we are navigating this right alongside of you guys. Obviously this isn't something that we have encountered in the last decade. And so I think we're all kind of figuring out the principles that we're going to do this by, together—and we'd love to share those with you.
How can I encourage my clients through this time?
DT: So one of the questions that came in through social media is, "How can I encourage my clients through this time?" Obviously, if your company is fine and your team is fine, but your clients are panicking and freaking out, that could impact their desire to do business with you.
I would just say at the end of the day, as leaders, our job is to lead and bring hope and ensure confidence. Don't be ignorant. I mean, there's some real stuff going on that we need to pay attention to, but we've got to go first and lead with confidence. We've got to set the tone, and we've got to control the narrative. Not spin, not being manipulative, but focusing on the facts, what's really true, not the drama. Decipher the truth and say, "We're going to build our narrative, we're going to build our conversation on what's true." Assure your clients that we're going to be okay. We're going to be here to serve you.
SS: Yeah. When there is chaos and unknown things like there are today, people are looking for you to step up and lead. And so that means making the best decisions you can with the information you have at the time. It means using common sense. It means being a stable place, and that goes for your clients too. They are, like Daniel said, they're looking for someone to step up and lead and create that stability.
And so, I agree with what Daniel said. First, you want to have empathy. "Hey, I know this is a little unknown. It might be scary to you. There's some uncertainty around certain things." I totally get it. We're going to keep doing business and people are still going to need our help. And that's what needs to happen. And so I think creating that stable place is key.
How can I plan proactively from a place of strength versus a place of fear?
DT: Another question that came in is, "How can I plan proactively from a place of strength versus a place of fear?" And there is a lot of fear sweeping our country right now. The fear is fascinating because it isn't all based on the facts. It's just this emotional reaction to other people reacting. And it builds.
SS: And it's contagious, right? So it's like a couple people are afraid and then everybody around them starts developing fear. And so it might have started from a place that made sense, but it starts creating this mass hysteria that then everyone is reacting to. I don't know if you guys have gone to your grocery store lately, but there is no toilet paper. I'm like, what do people think is about to happen? We are not having more need to go to the bathroom right now. So it's really interesting how contagious that is. Create that stability with confidence. Don't put your head in the sand. Acknowledge, "Man, this is a crazy time, and we're going to work through this. We're going to be okay."
DT: Yeah, absolutely. One of our core values is "Fear not." And here's what this looks like. You're going to feel fear in your life. You're going to have times when you feel afraid. You wouldn't be normal, you wouldn't be plugged into your emotions if you just never felt fear. In fact, fear protects us in certain situations. There's a reason we don't want to touch the hot stove. We should feel some fear that keeps us from doing stupid things, but we should use the fear to inform us on how to make wise decisions. And, ultimately, we as leaders have to feel the fear, but not make decisions based on the fear, right? Let's not be reactive to that.
SS: Let's make sure that is helping inform our common sense of how we go about this. And if you need a few extra minutes to collect your thoughts and get wisdom from other people, that's okay. You don't have to know all the right answers. We have a personality, Dr. Delony, on our team, and he has worked in trauma response units for years. He talks about the first thing that those people need to hear is, "You're okay." And so I think right now people need to hear, "You're okay. We're going to walk through this together. We're going to make commonsense decisions as we encounter new information."
DT: That's right. So I think your customers need to hear that. Your team members need to hear that. And then we want you to hear that as business owners, you're okay. You're going to be okay. What you do so beautifully as business owners that inspires us every day is you get out there and you figure out how to solve problems. That's what your business does. Think about what your business does. Whether it's a product you provide, a service you provide, there's a problem somewhere that your business is designed to solve.
Well, guess what? We've all got a few more problems. Right now, our country has some problems that it's dealing with, and I think entrepreneurs are going to be the solution to solving those problems. When we all rally together more than Congress, more than all the medical teams—they're playing an important role, for sure—but business owners have to come together and go, "Hey, we're problem solvers. That's what we do." So your business may operate a little bit differently over the next few weeks. Some of your businesses are going to be more directly impacted than others as a result of what's going on. But that's the marketplace. That's how business works.
Be the first ones to lead off with hope. That's what we're going to do. Not irrational hope, not denial. Acknowledge that there's a real thing going on, but bring hope to your team. Bring hope to your customers. And that starts with you believing in your heart that you have what it takes and that you're a problem solver. And take advantage of this opportunity to get creative.
SS: So I find that whenever I am the most limited or unsure of something, that's when I can get the most creative in terms of solutioning that problem. So if you have additional limitations, it will create opportunities to think in ways that you've never thought of before. So I want to push you. And if you're constantly suffocating under the fear, you're going to lose out on those opportunities to innovate and do things differently and think in a different way than you ever have.
Should I pass on business opportunities and not travel for business?
DT: Another question that came in is, "Should I pass on business opportunities and not travel for business?" I think the answer here is, it depends. You know, I use common sense. I'm getting on a plane with my family tomorrow. I'm not worried about it because the facts and the data don't say that you should not get on a plane.* If you've got an underlying health issue or if you're really concerned about it, you've got to make your own decision. But I think keep your business growing if you're able to, and keep your top line growing, keep serving your customers until the government says you are not allowed to travel. And I don't know if they're going to get to that point. I hope they don't. But if they do, then you've got to kind of figure out what you do at that point. But what happens with this fear-based thinking is we start speculating and going, "This may happen, this may happen." And so then we back our vision all the way down to this little limited view. We become victims of the situation. Don't do that now. Also, don't go the other extreme and stick your head in the sand and just act like there aren't considerations to make at certain points in time. The more that we learn and the more that things develop, then you can reserve the right to be smarter later. You're going to wake up every day, and based on what's going on that day, make the best decisions. But don't make a decision today that cuts off all this opportunity. That's totally speculating on what's going to happen, positive or negative. Continue to run your business the best you can. And do what you can do with today's information.
*When making travel decisions, you can find the most up-to-date recommendations from the Centers for Disease Control and Prevention here.
How do I manage remote workers effectively?
SS: So another person asked, "How do I manage remote workers effectively?" And we were talking a little bit about this. You know, the reality is you should be clear on your expectations and the objectives, whether they're in the office or whether they're not in the office. And so get very clear with people on what you're expecting from them, what needs to happen, what we're still driving toward. That clarity is going to be really important, especially if they're not physically in the office with you.
DT: Yeah, that's right. And I think as leaders, a lot of you guys do this already. But I might just turn the volume up a little bit on how consistently and how frequently you're encouraging your team, reminding them that you're counting on their work and also that it's not just you as their leader or their boss counting on their work. There are customers who are counting on your business to serve them during this time when everything is chaotic out there. Let them know, "We want our business to be a source of concrete stability. We want our business to be something that is not adding more chaos to the lives of our customers. And so I'm counting on you. Let's do this together. Let's figure out how we're going to help our customers." And you know what that means? It means if you're going to work from home, I'm counting on you to be an adult. Don't take advantage of this time and go, "Okay, well I don't have to go to work, and I guess I'm going to sit at home and just watch the news and freak out with everybody else." Unless you're physically hands-on in a plant or something, you can still add a lot of value and help the company move things forward. If you guys decide to do the remote thing, you'll need more communication with the team, encouraging them and letting them know, "Hey, I really am counting on you, even if we're not physically in the same space."
How should I handle child care issues with my team?
SS: You really do have to overcommunicate and make sure that you're having touchpoints. One of the questions that came in is, "How should I handle childcare issues with my team?" We just had our school system close Friday and then day by day—ended up closing basically this entire week. And then we go into spring break of course. So we are right there with you in terms of juggling childcare. So this is a great question. How should we handle child care issues with our team?
DT: Well, I'll tell you what you don't do. You don't pull out a policy. Have a heart, have some compassion. Think about where people are at. If they're trying their best and they're doing everything they can to take care of the kids and take care of their responsibilities at work, have a little bit of grace and show some compassion. Just let them know, "Hey, do your best. Do the best that you can." And I think making it a dialogue and a conversation versus just saying, "We've all met, and we've decided this is our policy on child care right now." A much better play is to say, "Hey, what do you need right now?" And Sarah, you've got kids, you've got your job here at work. What would help right now? What are you up against? Do you have any child care at home? Do you need a little time? You want to come in early? There are always options to be more fluid if you'll just kind of work through it and treat them with dignity, and then ask them to reciprocate by acting like an adult.
SS: Often we'll bring the team members in and say, "We're trying to balance this idea where you have to be able to take care of your family, and we've got to continue to serve our clients.
So what do you think is the best way that we can balance those two things? What do you think is the best way for us to go about that?" And I feel like they come up with great solutions, and we go and talk about it and we come back with something that we all feel good about.
And it works.
How do I stay calm over the next month?
DT: So someone else asked, "How do I stay calm over the next month?" For the rest of your life, regardless of what's going on, you've got to be rooted in your faith. You've got to know what you believe. And when there are new speed bumps and hurdles that come at us that we weren't expecting, like this whole Coronavirus thing is for a lot of us, you just plan. You just spend a little bit more time thinking about, in light of this, what makes sense.
SS: How does this change my game plan? And I hate to tell you guys this, but this will not be the last thing we are talking about in this way. You know, a lot of us remember back in 2007 and 2008, it was so crazy. We didn't know when it was going to end. We weren't exactly sure how it was going to impact things. And I was in the hospitality business at the time. So it was a really crazy time. And so this will not be the last time we are fielding something that feels like it's of this magnitude. It will just look a little different. And so I think being able to take these principles we're sharing with you today and apply them as a filter based on anything you come across is going to be super valuable for you.
DT: Yes. I would also encourage you guys just to really monitor your inputs. If all you're listening to is negative inputs, you're going to start feeding that fear internally, and your team is going to feel that. Your customers are going to feel that, and ultimately your business will be impacted—not necessarily because of actual situations, but because of the fear that the leader has succumbed to. And so pay attention to what's going on. It's okay to listen to the news and stay updated. You need to know some of that to make good decisions. But you also need to be paying attention to who's in your community—who are your other business leaders and peers that you can go, "Hey. Let's keep our chin up in this, and let's encourage each other, and let's look for what we can do." What can we do to empower ourselves to make good decisions and make wise decisions for our teams, so that we don't get into a victim kind of mindset on this thing?
So, still listen to podcasts. Listen to positive inputs and good books and things like that, because you know, every morning you should be getting up and starting with, "What's going on in my head?" That's going to shape my mindset for today. Cause a lot of this stuff is mindset—20% there's a real thing going on, and 80% is mindset—how you respond to it.
What does my team need from me right now?
SS: So earlier, we talked a little bit about what your team needs from you, and I would encourage you to just grab them and have the same kind of chat with them. Everybody is kind of wondering, "How are we responding to this thing that's going on, that everyone is talking about?" And I think the best way is to just open it up and say, "Hey, I'm sure we all have a lot of questions. Let's talk about them." Here are the filters that we're going to use as a business to make decisions. We're going to use common sense. We're not going to panic. We're not going to create more fear out there. We're going to do the right thing. We're going to treat each other the right way. We're going to continue to super serve our clients and drive our business. Ask, "What questions do you guys have?" Put it all out on the table. I think just being able to openly talk through that with them will allow them to get anything that might be built up in their system right now out on the table so you can address it. And then everybody is able to go about their business.
DT: Yup, no doubt. Well, we want to encourage you guys, and we want you to know that if you feel some fear, it's okay. If you feel a little bit panicky, that just makes you normal. But also, we want to remind you of something you already know. You're a leader. You're a business owner. You're a problem solver. You have what it takes to push you and your team through this. It's going to impact some businesses differently than others, but it doesn't mean that you don't have what it takes. You have what it takes to win—when it's good and when there are challenges. And right now, this is a challenge for some of us.
So I would absolutely do what Sarah said. Invite them into it. Bond together as a team. Figure out how you guys can be a family and lock arms together. However this is impacting your business, come up with solutions. And then the best thing you can do is focus on controlling the variables that you can control. There may be a few variables that you've been able to control before that you can't control now, but hold onto the things you can control. You can control your inputs. You can control leading off with hope. You can control treating your team with dignity. You can control communicating more with your customers. There are all kinds of things you can still put your hands on the levers of in your business and cause things to happen and move forward. That's why you're the leader.
So continue to lead, continue to talk to us, call us. Let us know how our team, our coaching team, can help you. We're here, and we're going through all this stuff at the same time that you guys are. You're a part of our family, and we want you guys to win. We know you have what it takes, and we will continue to be cheering for you guys. And pretty soon we'll be on the other side of this, and we'll be telling the stories about how we navigated it together. And that will make us stronger for the next challenge. And so, thank you for doing what you do. Thank you for being the heartbeat of our country. We believe in you guys, and we wish you guys the very best as you move forward.
Link: https://www.cdc.gov/coronavirus/2019-ncov/travelers/index.html