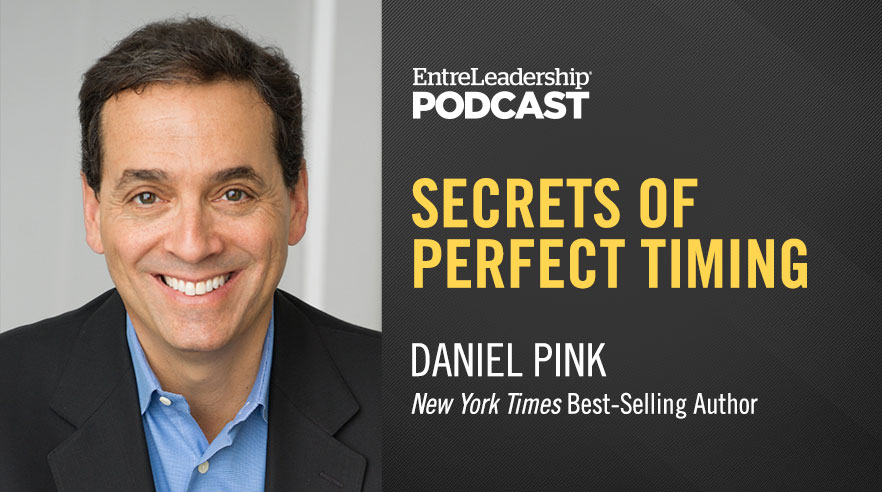 Whether you're an electrician or an analyst, a brain surgeon or a salesperson, New York Times best-selling author Daniel Pink has discovered a universal truth: When we do our work is just as important as how we do it. Turns out even the brightest minds aren't at their best at certain times of the day. Luckily, it's possible to decipher your own patterns of performance—i.e., when you're at your peak and when, well, you're not—and then use that information to your advantage. Tune in to find out how to get your timing right in order to boost performance, make fewer mistakes, and heighten creativity.
Want expert help with your business question? Call 844-944-1070 and leave a message or send an email to podcast@entreleadership.com. You could be featured on a future podcast episode!
Links mentioned in this episode:
Related posts:
#184: David Allen—Getting Strategic With Personal Productivity
If "overwhelmed" seems like the best way to describe your day, listen in. Because the leading authority on personal organization, David Allen, joins us to discuss how to get things done. This best-selling author shares new insights on personal productivity and how you can become more effective, organized and focused, plus how you can plan projects like a pro.
#182: Cal Newport—Focused Success in a Distracted World
In today's world with all of its diversions, it's harder than ever to concentrate. But don't give up! It's still possible to focus intensely on cognitively demanding tasks, says this week's featured guest, Cal Newport. The author and professor joins us to share his tips on a better way to avoid all those disruptions and transform your mind and habits.
#166: Charles Duhigg—New Ways of Thinking About Productivity
Pulitzer Prize-winning journalist and author Charles Duhigg returns to the podcast for a cutting-edge look at the science of productivity. He explains how we can improve at the things we do now and how to get more done without sacrificing what we care about most.
#160: Greg McKeown—Do Less and Accomplish More
Greg McKeown, best-selling author of Essentialism, teaches leaders of the most innovative companies around the world how to achieve the disciplined pursuit of doing less and getting more done. Greg shares his tips on finding out what's important and breaking the habit of being distracted by things that don't matter.