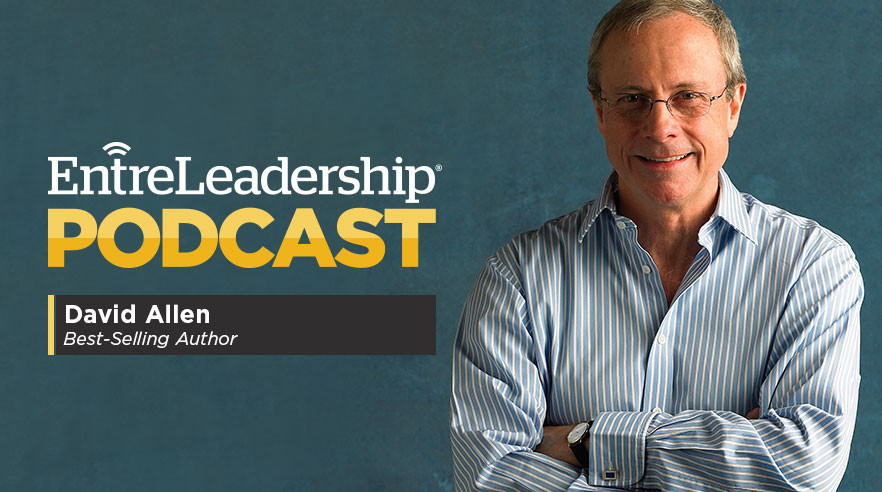 He's known as the guru of productivity for good reason. Best-selling author David Allen knows how to get things done. In fact, his book on the same subject was a runaway best seller and has become the gold standard on how to get more out of your day without stressing yourself out. Because isn't that what we all want? We want the secret sauce that will help us learn more, do more, and achieve more—without losing any more precious sleep.
David first wrote Getting Things Done in 2001—way before the smart phone and 24-hour connectivity made people's busy lives even busier. He updated it in 2015 to reflect a new generation, culture and workplace. But even with massive changes in technology, the basics of how to approach professional and personal tasks remain the same. It just might not be what you think.
The Five Phases of Project Planning
"You yourself are actually a planning machine," David says. "You're planning when you get dressed, eat lunch, go to the store, or simply talk."
We're also always working. But somewhat ironically, we hate the word work. We only use the word to describe activities we wish we weren't doing. But in reality, as David explains, everything is work. Work is anything that has to be done that is not yet done.
Whether you have to plan the next vacation, hire an assistant, get a dog, research where your kids should take karate—it's all stuff you have to do. It's all work. So, how do you manage all of it as opposed to having it manage you? Here's the secret: Capitalize on the way your brain is already wired.
Introducing: the five phases of project planning. In the midst of planning anything, your mind will unconsciously go through five different phases:
The purpose (and principles). Why am I doing this?
There is a purpose that drives everything. Why am I going out to dinner? Because I'm hungry. Why am I meeting with this client? Because I want to sign a business deal. Why am I buying flowers? Because I want romance.
But the purpose also has to be filtered through the principles that operate within you. I don't want to go out if it's too cold. I don't want to go to dinner if it's too expensive. I need to make sure I get her favorite flowers in her favorite color. Both purpose and principle are the prime drivers for every decision we make, no matter how small.
A vision. What am I trying to accomplish?
Having a vision is about visualizing an outcome that isn't yet true. You draw a picture, usually in your head, of what it would look like for your purpose to be fulfilled. When you think, What am I trying to accomplish?, your mind will start the brainstorming process and bring up anything relevant to help you get there.
What do I need to do to accomplish this?
When you start brainstorming, your mind starts thinking about everything involved in what you want to accomplish (in no particular order). So, if you want to go out to dinner, you'll start brainstorming which restaurant you want to go to, what you need to wear according to the weather forecast, what time you'll get out of work so that you can make your reservation, etc.
What's the priority?
The organization phase is when you begin sorting everything you need to do from your brainstorming phase. You might write it down or you might not, but this is where you consider how to organize everything you need to do in order to accomplish that one goal.
Next action. What's the very next step that I need to do, and how do I actuate it?
Finally, you'll typically unconsciously take the next step. That could be picking up your jacket, putting gas in your car, or opening a new tab on your computer to begin research. It might not be the best, most efficient next step, but you'll take another action.
This is how our brains naturally and unconsciously work. We don't have to initiate anything for our minds to go through these phases—it just happens. So instead of searching for some new productivity hack, David advises us to take advantage of this process to improve how we make decisions and increase efficiency.
How Leaders Can Use the Five-Phase Process to Make Better Decisions
No matter the decision you're making, you're going to go through some variation of the five-phase process. It's not always in the right order, and at times, you might even skip over some. But when you experience this process consciously versus unconsciously, you can become more productive and confident in your decision-making.
When most people need to come up with a plan, they immediately go to the organizing step of the process—for good reason. They think if they can just sit down and organize a plan of attack, all will turn out great. But they forget the most important step. They neglect to ask themselves the purpose of their project. It's critical to know the purpose so you can set standards and decide if it's even worth your time.
Can you imagine how many projects would immediately get bumped from your to-do list if you first stopped to evaluate whether it was worth your time and effort? That alone could increase your productivity enormously!
Believe it or not, phase five is another area that many people inadvertently skip over. You come up with a great plan, but don't consider what the next right step is in order to make that happen. This could result in taking longer to get the job done or never getting to it at all because you've taken steps that don't actually move the needle.
Consciously incorporating each phase in your decision-making process—no matter how big or small the decision is—will drastically increase your confidence with every decision. You'll feel good about the fact that you've thought through each step thoroughly, and therefore, have made the most informed decision possible.
In addition to being more intentional about taking each decision through the five-phase process, you can also take your productivity to a new and improved level by scheduling a regular operational review.
Why Every Leader Needs a Weekly Operational Review
In David's research, he found that most people have anywhere between 30 to 100 projects going on at a time. Can you believe that? Starting a new project and making an intentional plan to accomplish it is all necessary and important. But there's another practice David recommends that will help you get those projects to the finish line a lot sooner.
It's called an operational review. And it's one of the most significant missing pieces in most executives, senior leaders and entrepreneurs' calendar planning. It's a great practice to look at your calendar daily to see what's coming up. But we can take that a step further by reflecting on the inventory of each project in flight.
First, let's define what a project is: A project is any activity that's going to take more than one step or action to accomplish. Projects don't just happen in your work life. They happen in your personal life as well. Reflecting on the inventory means checking on the status of each project and seeing what the needs are to get it one step closer to done. What does David suggest?
Take two hours a week, close the door, and disconnect to solely focus on your pipeline of projects. In those two hours, plan to:
Get clear
Get current
Get creative
In today's interview with David, we focused on getting clear. That means taking a good look at anything miscellaneous that has popped up on your calendar over the last seven days and clarifying how to move that forward.
You could also look at this step as catching up. You could organize your calendar, inbox or workspace. Catch up on reading you didn't finish or document ideas you scribbled down. The goal here is to get rid of any residue that's still unprocessed.
This is so critical to your productivity, because in David's words, "Your head is a crappy office. Anything you have just in your head, you will either give it more importance than it deserves or less importance than it deserves. Your head is for having ideas, but not for holding them."
Links mentioned in this episode: