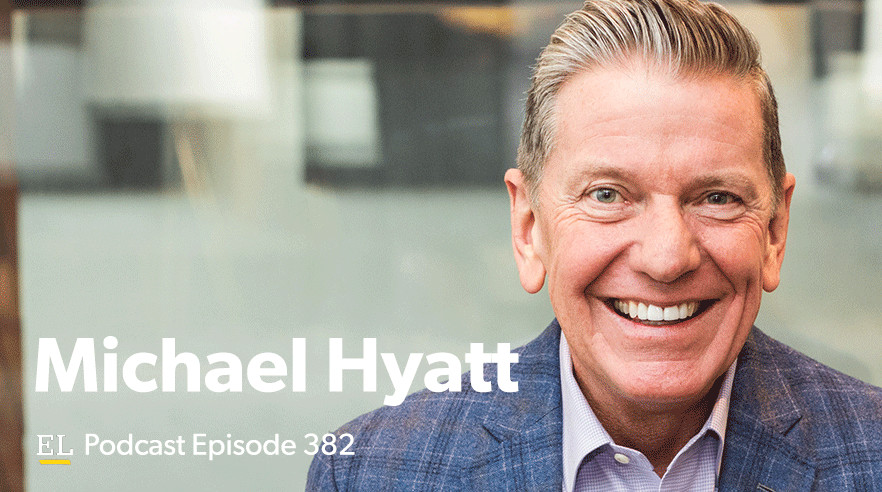 If you're anything like the average team member in America today, you attend roughly 62 meetings every month. And if you're an executive, that number is even higher. About half (yes, 50%) of your work week is spent in meetings! Even worse? Most of those meetings are a complete waste of time, says bestselling author Michael Hyatt. Tune in hear Michael explain five ways to make the most of every meeting to not only save precious hours but also improve your culture and increase your team's productivity and performance.
Links mentioned in this episode:
Take a glance at your calendar. Does a typical day look like a mad dash from one meeting to the next? If so, you're not alone. The average team member in America today attends roughly 62 meetings every month. That's more than 15 a week. And if you're an executive, that number is even higher—about half (yes, 50%) of your week is spent in meetings. That adds up to two months of meetings a year!
And get this: Most meetings are a complete waste of time, says bestselling author Michael Hyatt. Maybe that explains why so many of us absolutely dread going to them.
"I got to the place where I just hated meetings," Michael says. "It felt like that was my entire life. The only time I had to get my work done was either after work or before work or on the weekends. It just wasn't sustainable."
And when you consider the payroll sitting around the table, ineffective meetings cost you a lot more than time. "on meetings in this country every year," Michael says.
Not to mention, useless meetings take a toll on your team's productivity and morale—and that ultimately impacts your entire culture.
Why are we having so many meetings in the first place?
Frustrated by his own jam-packed schedule, Michael took a step back and discovered what seems like universal truth. "Most meetings are a waste of time by virtue of the fact that they're not run well—they're not planned," he explains. "And honestly, they sometimes substitute for things that could be done in a completely other way."
For example, meetings often become a go-to option when there's a decision to be made but no one in particular wants to take ownership of it. "It's kind of a fancy way to procrastinate organizationally," Michael says. "And it also is a fancy way to kind of share the blame or the responsibility. But in doing so, you're slowing things down so much."
So, what good are meetings anyway?
Love them or hate them, meetings do play an important role in your business, which is why Michael was so determined to reinvent them at his own company. "If you're going to coordinate work, if you're going to stay aligned as a team, you've got to have meetings," he says. "As a leader, you have to cause that alignment, and the principal way to do that is through meetings."
But first, you have to figure out exactly what warrants a meeting—and what doesn't.
"One of the worst possible uses of a meeting is to disseminate information," Michael warns. Instead, for things like status updates or general company-wide announcements, use email.
However, if you're trying to plan work, brainstorm something, or need multiple perspectives on a topic, calling a meeting is your best bet.
Be especially mindful of reoccurring meetings. "Those are the ones that can often outlive their usefulness," Michael says. "If you don't keep eliminating those meetings, [they] will take over your business." If a meeting no longer delivers value—or if you've found a better way to achieve the same thing—kill it immediately.
Michael's rule of thumb? "[Meetings] need to lead to either better thinking or better decisions," he says. And the best way he's found to achieve those results is with what he likes to
What is a No Fail Meeting?
No Fail Meetings have five important parts:
A purpose: Getting everyone in the same room to make small talk does not count.
An agenda: It must include the purpose of the meeting—and follow Michael's "A-E-I-O" acronym.
A=Celebrate Achievements—"You've got to celebrate where you're winning because it gives [the team] a sense of confidence and momentum," Michael says.
E=Calibrate Expectations—Clearly state the results you anticipate.
The right people in the room: Including too many people only slows down the conversation.
Outcomes: Focus specifically on the desired results of the meeting.
Follow-up actions: Include a due date for each task—and hold people accountable! Otherwise, you'll end up having the same meeting over and over again.
What are some other ways to take my meetings to the next level?
If you want to make the most of every single meeting, you need to:
Start—and end—on time. And if you get through the agenda early, be done! "Nobody ever complained about a meeting that ended early," Michael says.
Have a meeting facilitator. Think of this person as a referee who's in charge of keeping the meeting on track and taking minutes.
Welcome all opinions. "Create an environment that's safe for dissent so people can push back, can speak their mind freely," Michael says. "You get the best thinking on the table without people feeling like there's going to be a repercussion for disagreeing with the status quo."
Show up prepared. It's not enough for your body to be present but your mind to be elsewhere. Be ready to engage.
As the leader, hold your counsel. "I want the best thinking of the group before I weigh in," Michael says. "If I don't need that, there's no sense in having a meeting."
What can derail a meeting?
Unfortunately, it doesn't take much to disrupt even the most well-planned meeting. Whatever you do, avoid what Michael refers to as A.M.B.'s (aka annoying meeting behaviors):
Taking a phone call
Checking email
Having a side conversation
Interrupting
Talking too much
Not participating
"There was a time that I banned laptops and smartphones," Michael says. "When people are giving you half of their available bandwidth, that's what slows meetings down."
What are the benefits of a No Fail Meeting?
From maximizing your team's time and boosting morale to increasing productivity and saving money, the benefits of No Fail Meetings are limitless. "Just imagine what could happen inside of your organization if people looked forward to coming to meetings, if real work was done inside of those meetings, that the quality of your decisions was better, that you were delivering results that everybody expected," Michael says. "That would change the culture and the outcomes of your entire business."
Learn more about how you can maximize meetings in your own organization: