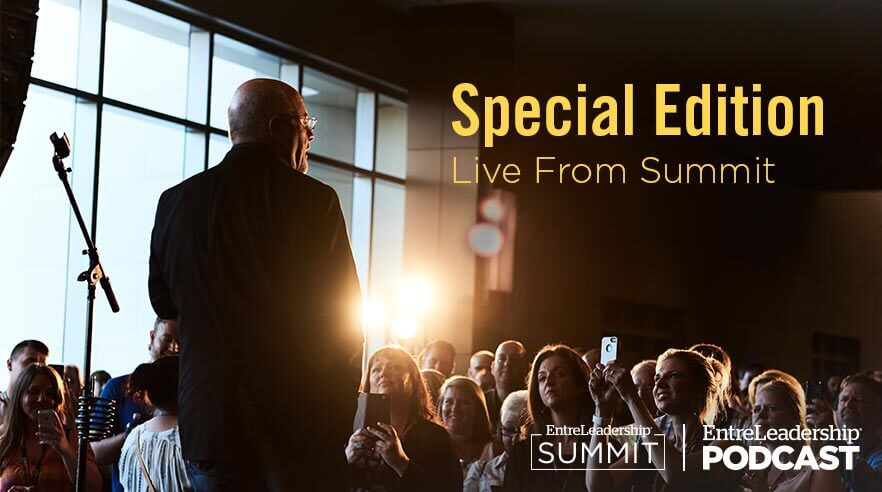 #205: Bonus 2—Ramsey Solutions Leaders
We're continuing our bonus content from EntreLeadership Summit in Orlando, Florida, with some special conversations with Ramsey Solutions leaders. We start with Herb Jenkins, Executive Vice President. Herb shares what prevents a small business from hitting its marketing goals and the three simple questions you need to ask to keep everyone on track. We then talk with Daniel Tardy, Vice President of EntreLeadership, and Sarah Sloyan, Director of Sales for EntreLeadership. The pair recap the week's top moments. We wrap up the episode with excerpts of Chris Hogan and Christy Wright from the stage.
#204: Bonus 1—Simon Sinek
On today's bonus episode from EntreLeadership Summit, we're featuring a Q&A session with one of our favorite leadership experts—Simon Sinek. In addition to his lesson, Simon took the time to answer queries from our attendees. Once off the stage, Simon continued sharing his insights in a special conversation with podcast host Ken Coleman. We're wrapping up today's episode with an interview with Josh Hayes, a top Dutch Bros. Coffee franchisee. Dutch Bros. is known for its amazing coffee and incredible culture. Josh shares how he keeps his team motivated and fired up to win.
#203: Day 3—John C. Maxwell
He may be known for teaching leadership and writing international best sellers, but John C. Maxwell says what he's most passionate about is personal growth. On the final day of EntreLeadership Summit, he takes the stage to share his tips on bringing out the best in yourself and your team. Check out this excerpt from his lesson. Following his talk, podcast host Ken Coleman interviews John for even more wisdom, plus our top leaders take part in a special Q&A session.
#202: Day 2—Coach Lou Holtz
We start the second day of our special EntreLeadership Summit podcast series with an excerpt from today's talk by one of the winningest college football coaches of all time—Lou Holtz. Lou shares his simple rule to success, which works for life or business. As a bonus, podcast host Ken Coleman interviews Coach Lou on the characteristics of a championship team, plus much more. Country superstar and entrepreneur John Rich also stops by. Then, we end the day with two EntreLeaders who share their stories.
#201: Day 1—Dave Ramsey
We're broadcasting live from EntreLeadership Summit in Orlando, Florida, this week. We start with our own Dave Ramsey's opening remarks on the power of intentionality and an additional interview with Dave by podcast host Ken Coleman. Also on tap, Ken interviews two EntreLeaders who are sharing their stories. Today is just the start of this special week. Check out new episodes each day and take part in the fun!