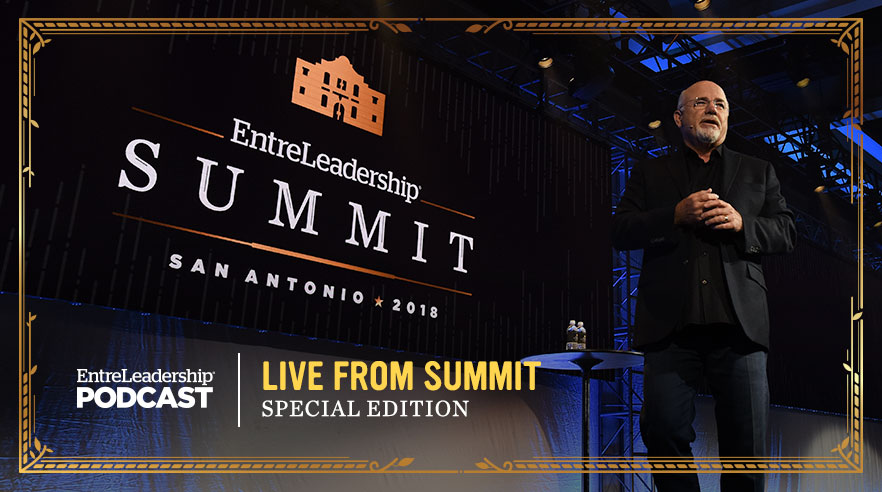 #267: Gary Kelly—Leading Through Tragedy
We're wrapping up our special bonus content from EntreLeadership Summit with a powerful lesson from Southwest Airlines CEO Gary Kelly on leading his team through the airline's recent tragedy in April. He offers tremendous insight on the importance of communication and teamwork—and it's a testimony you'll likely never forget. Next, a few members of Ramsey Solutions operating board of directors answer questions from our attendees, with topics ranging from core values to the origin of Summit itself. We'll also hear from Will Moyers, CEO of Vallus Energy Consulting, who came to Summit to celebrate the EntreLeadership-driven transformation of his now debt-free business. And last but not least, Sarah Sloyan, EntreLeadership Vice President, joins us to recap some of her favorite moments from an incredible three days in San Antonio.
Links mentioned in this episode:
#266: Dave Ramsey, Seth Godin, Donald Miller
We're coming to you again from EntreLeadership Summit, this time with an outstanding panel discussion featuring Dave Ramsey, Seth Godin and Donald Miller. The powerhouse trio tackles questions from our attendees and addresses tough issues such as managing rapid growth, developing leaders instead of managers, and defining success within your own organization. Their answers are insightful, candid, and straightforward—and a game-changer for sure. Oak Run Associates' Priya Ghumman, who also owns Development and Construction Corporation of America, will also be joining us. An EntreLeadership raving fan if we've ever met one, Priya has attended three Summits (and is already registered for next year!) and says the lessons she's learned there have helped her transform her 40-year-old family business.
Links mentioned in this episode:
#265: Dave Ramsey on Market Disruption
We're continuing our bonus content from EntreLeadership Summit with a lesson from Dave Ramsey on something that affects every single one of us: market disruption. Regardless of the business you're in, change is the only constant in today's marketplace. And if you want to survive, complacency is not an option. Tune in as Dave details the three things to avoid if you want to stay a step ahead of your competition. We'll also hear incredible testimonies from two of this year's 2,300 Summit attendees. The first comes from Christian Staples, owner of Arctic Spas, who has grown his business over 300% since discovering EntreLeadership five years ago. Next, PDG + Creative owner Andrew Oleson will explain how attending multiple EntreLeadership events has helped him transform his company's culture and more than double his business. Get ready to be inspired!
Links mentioned in this episode:
#264: Alan Mulally, Chris Hogan and Dave Ramsey
On today's bonus episode, we're taking you to San Antonio, Texas, where EntreLeadership Summit is in full swing. We start with Dave Ramsey as he introduces the theme of this year's event and highlights a powerful and timeless leadership lesson straight from the Alamo. Next, Ramsey Solutions' own Chris Hogan shares why it's so important to get your team to think, act and care like you do. Better yet, he will tell you exactly how to get it done in your own business. And then the one and only Alan Mulally, former CEO of The Ford Motor Company, answers questions from our attendees. He covers everything from the secret to his success and how to create a high-performance culture to the profound impact his mother had on his approach to leadership. We end the episode with three-time Summit attendee Derek Evans, who explains the impact EntreLeadership has had on himself, his business, and his team. Today is just the start of this special week. Check out new episodes each day and join in the fun!
Links mentioned in this episode: