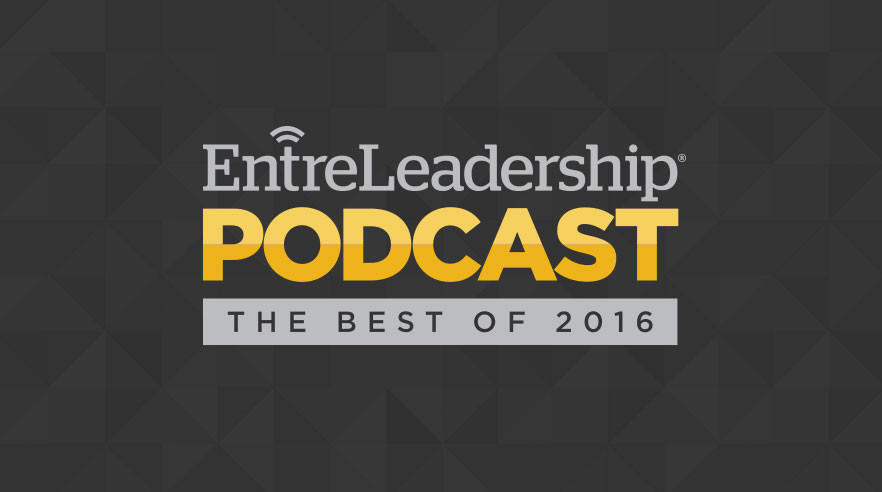 This year was a big one for the EntreLeadership Podcast. We were blessed with amazing guests and incredible conversations, and we introduced new resources designed to help small-business owners and leaders.
So to celebrate an awesome 2016, we're sharing clips from our favorite episodes of the year. They were selected based on number of downloads and feedback from our listeners. They're also broken down into two categories: leadership and personal growth. As a bonus, we're also featuring our top five EntreLeadership tools.
We hope you enjoy them! Have a wonderful new year!
Top 5 Leadership Interviews
The Rundown: Pulitzer Prize-winning journalist and best-selling author Charles Duhigg returns to the podcast for a cutting-edge look at the science of productivity. He explains how we can get better at the things we do and how to get more done without sacrificing what we care about most.
Top Takeaway: We must change how we think rather than what we think to transform our lives.
Favorite Quote: "The more you can think, the more you're setting yourself up to succeed."
The Rundown: Best-selling author and leadership expert Simon Sinek discusses the one question you need to ask that will propel you, your business and your team to great heights. He also shares additional leadership and business tips.
Top Takeaway: Leadership is the most complicated thing you'll ever do in your life. Why do you think you can do it alone?
Favorite Quote: "You don't just 'have' vision. You have to find one."
The Rundown: How can you successfully run a business in today's ever-changing marketplace? Todd Duncan, sales entrepreneur and best-selling author, says it's all about creating emotional connections with your customers. And he joins this episode to tell you how.
Top Takeaway: This episode forces you to re-evaluate everything about customer experience and the customer encounter.
Favorite Quote: "If your sales are stuck, there is a fundamental idea you should grasp. Your sales are not in a rut. You are in a rut. You need a paradigm shift."
The Rundown: Craig Groeschel, the senior pastor of a church with 570 team members, 25 campuses and weekly average attendance of more than 70,000, shares his tips for leading and delegating at one of the best-run organizations in the country.
Top Takeaway: It's not about finding the right leaders; it's about developing the right leaders.
Favorite Quote: "When a leader fails to address a problem, the problem is no longer the problem. The leader has become the problem.
The Rundown: Jim Collins, best-selling author, researcher and lifelong teacher of leadership, calls in for an in-depth discussion on what makes successful companies tick.
Top Takeaway: No matter how small your business, you have the power to turn it into an iconic, visionary company.
Favorite Quote: "Greatness is not a function of circumstance. Greatness, it turns out, is largely a matter of conscious choice and discipline."
Top 5 Personal Growth Interviews
The Rundown: Researcher and business consultant Marcus Buckingham returns to talk about making the most of your God-given talents and how you can use them to contribute to others. The former senior researcher at the Gallup Organization and best-selling author shares plenty of tips.
Top Takeaway: When you realize your gifts or strengths are not for you but for those you come in contact with, it's a life-changing event.
Favorite Quote: "Look at the activities you are drawn to—not the title, not the new promotion with the big office, not the money."
The Rundown: Serial entrepreneur and Atlanta Hawks owner Jesse Itzler joins us to share his story of getting out of a rut and why every business owner needs to do the same. Warning, though: Itzler took it to the extreme. The former rapper and cofounder of Marquis Jet invited a Navy SEAL to live with him and his wife for a month so he could train with the toughest man on the planet.
Top Takeaway: Get your foot in the door first . . . and figure the rest out later.
Favorite Quote: "Most of my successes in life have come from learning how to be comfortable with being uncomfortable."
The Rundown: The Group President of Focus Brands, parent company of well-known franchises like Cinnabon, Auntie Anne's Pretzels, Carvel and Moe's Southwest Grill, joins us to discuss her amazing story. Plus, Kat shares how building trust with your team is one of the main ingredients of success
Top Takeaway: To grow, you need to not only embrace failure, but also celebrate it.
Favorite Quote: "Question success more than you question failure."
The Rundown: The retired Navy SEAL, recipient of the Silver and Bronze Stars, and best-selling author shares the mindset and principles that enable SEAL units to accomplish the most difficult missions in combat.
Top Takeaway: There are no bad teams, only bad leaders.
Favorite Quote: "If I fail on a mission or project I'm doing, good. I will learn from it!"
The Rundown: Author and expert on creativity, leadership and passion for work Todd Henry shares his step-by-step process for being prolific, brilliant and healthy in life and work.
Top Takeaway: Creativity is everyone's business. You're a creative, if only an accidental one.
Favorite Quote: "By acting, we make things concrete; action breeds motivation, not the other way around."
Top 5 EntreLeadership Tools of 2016
We're sharing our own 12-step process that will ensure the right person with the right personality fills the right position.
Here's how to get more stuff done, starting today. It includes a time tracker to see where you are spending most of your time.
Yes, it is possible to successfully own and run a business without going into debt, and we're going to show you how.
This tool takes you through the steps to develop your own mission statement or refine the one you already have.
In this guide, we're going to show you how to delegate the right way, so you can focus on what matters most.



Links mentioned in this episode: